Access Control Maintenance
Service and support are key elements in ensuring any security system remains effective and trouble free. Lock-Tech Systems are able to provide comprehensive access control maintenance & customer service. Our after sales service and maintenance contracts are carried out by our team of highly trained locksmiths and technicians. As a result we are available to assist with technical support inquiries both online or if necessary on-site to rectify any problems Monday-Friday between 08:30-17:00.
We pride ourselves on a high standard of customer service. Our desire to build long term relationships with our clients has led to a large client base, many of whom have been receiving comprehensive access control maintenance programs for years. We offer our customers:
Planned Preventative Maintenance (PPM) Agreements
Where we conduct 2 site visits per year at a pre-arranged time and date that best suits you and your organisation to ensure your system is well-maintained and safe.
Comprehensive Service Agreements 
Where you can pay upfront to keep your systems in tip-top condition.
Reactive Call Outs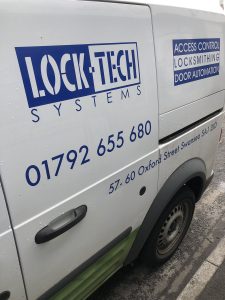 Where we simply attend when you call us out, Lock-Tech-Systems service and maintain:
– Access Control Systems
– Automatic Doors
– Video/Audio Door Entry Systems
– Manual Doors
System Upgrades
Upgrading existing systems also forms a major part of Lock-Tech System's work for its clients. Therefore we will always strive to advise you on the best course of action for upgrades, working with you to determine which elements of a system need upgrading and which elements can be retained to save unnecessary expense.
Call now to discuss your requirements with an adviser on 01792 655680 Or visit our webshop for sales and spares.