Salto XS4 2.0 has raised the bar for small, discreet size handle sets combined with a modern, clean LED aesthetic. The Salto XS4 2.0  range simplifies installation on virtually any kind of door, complementing any type of atmosphere. It's the ideal solution for any door where there is a need to control access.
Salto XS4 Wall Reader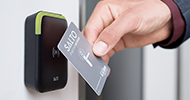 The new Salto XS4 2.0 wall reader incorporates the cutting-edge design standard of the XS4 2.0 product range in this technological powerhouse. 
In combination with a Salto Control Unit, Salto XS4 2.0 enables the integration of a wall reader with almost any Salto interface. Therefore Salto Xs4 2.0 can provide a building or group of buildings with a comprehensive access solution. 
The Salto XS4 2.0 wall reader allows for the expansion of Salto access control benefits to all those doors where a standalone electronic lock cannot be fitted i.e. barriers, elevators, mechanical doors etc, or where control must be boosted by online real-time access control.
The wall reader updates the operating carrier via Salto Virtual Network (SVN) technology, making it possible to cancel lost or stolen cards remotely, and is compatible with most ID technologies. These include DESfire, DESfire EV1, Mifare, Mifare plus, Mifare Ultralight C, SKIDATA, and it also works with Bluetooth Low Energy and NFC devices making it suitable for use with Salto's JustIN mobile technology. 
Available in two versions (European and ANSI) and in two colours (white and black) it is completely sealed and designed for heavy-duty outdoor use (IP 66 rated). It incorporates visual, acoustic and mode status indicators, can be surface or flush mounted, and is easy and fast to install with a practical bus system. A Salto Wall reader with key pad is also available in the same colours. It provides maximum flexibility without sacrificing security with three authentication modes available, and a system of intelligent keypad lighting activates automatically when needed.