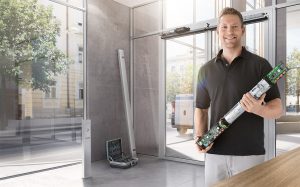 We are always on the lookout for reliable, experienced and highly motivated individuals to join our growing team at Lock-Tech.
Unless there is a specific vacancy listed on this page, we can't guarantee we will have something for you at this time, however, if you are interested, do send us your CV.
We will always take the time to read a CV and we will get in touch should we need any further information from you.
26th February 2018
Lock-Tech Systems Team: Technical Sales

We're looking for enthusiastic candidates to join our access control team to work in the fields of access control systems engineering and project management. The role will involve providing technical expertise in a customer-facing, delivery-focused environment as well as assisting with the preparation of bids, quotations and orders on a regular basis.

You'll need a hunger for knowledge and a pro-active approach to learning the technical aspects of our access control products, ranging from the mechanics of stand-alone handle sets, through to the systems engineering approach required to integrate our online systems. A solid appreciation and understanding of the Windows-based software will need to be acquired so a good grounding in IT is essential. On top of these technical skills we are looking for someone who also has the business mindset required to seek opportunities and win business so communication and organisational skills are a must.

 Job Spec

Respond to access control telephone enquiries – both sales & technical.
Create detailed quotations aligned with our capabilities and customer specifications.
Co-ordinate small access control projects.
Maintain contact with some of our key customer accounts – Hospitals, Schools & Universities.
Managing and interpreting customer requirements – listening to clients and using astute questioning to understand, anticipate and exceed their needs.
Recording and maintaining client contact data on our database.

Aims

Become an expert in Salto systems (and other access control systems – Paxton etc) and providing solutions to access control related problems.
Provide useful, efficient expert advice over the phone, via email and in person
Become proficient in specifying access control systems to a wide customer base

Person Spec 

Pro-active and enthusiastic about learning the technical and commercial aspects of Lock-Tech's access control business
Excellent communication and organisational skills
Excellent IT skills – competent with Microsoft Office
Competent in the English language and good numerical skills
Ability to work as part of a team.
Ability to use one's initiative to get the job done
Friendly, professional and forward thinking